Elaborated from a blend of red wine selected for its structure and aromatic profile, this vinegar is made to measure by an artisanal manufacturer near Narbonne. The wine is transformed into vinegar and then patiently aged in French oak barrels for over a year to develop a fine and intense bouquet. The flavouring with Kampot pepper gives it an incomparable taste. Originally from the south of Cambodia, Kampot pepper is a black pepper remarkable for its delicate aromas and sweet spiciness. This craft vinegar goes well with exquisite dishes to enhance their savours and add new tangs.
Kampot pepper (Piper nigrum)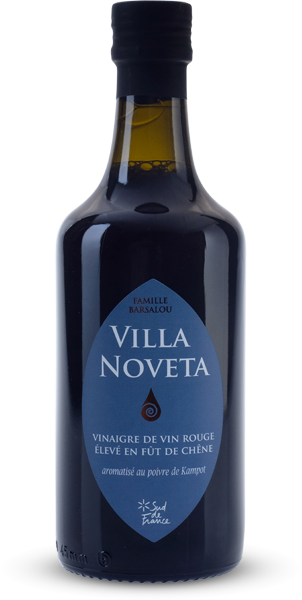 GEOGRAPHICAL INDICATION : Sud de France.
CLOSURE : screw capsule with dropper.

Limestone colluvium and alluvium.
Ferruginous sands of the Cretaceous.

Syrah, Carignan, Grenache Noir.

The red wine is made from destemmed grapes with a vatting period of three weeks.
Then the wine is slowly turned into vinegar in french oak barrels and aged during 12 months. Dry berries of Kampot pepper are macerated in the barrels for two months before the final blending.

EYE : intense amber colour.
NOSE : vivid bergamot and myrtle aromas.
PALATE : powerful and fruity with soft pepper flavours. Lingering finish with lemon notes.

Fresh oysters and Mediterranean salads.