From the Mediterranean Basin and elsewhere, seventeen grape varieties are grown in the vineyards of Domaines Barsalou. Thanks to vast expertise of the soil, the different varieties of vines are planted on the plots most suitable to their growth, allowing for the perfect quality grape production.
CINSAULT
A traditional grape variety from Languedoc and Provence, it is believed to be of Greek origin and was probably introduced in Narbonne from the days of the Phocean merchants. Mediterranean, this variety likes hot and dry summers. It is perfect for the development of fruity and slightly spicy rosé wines or light red wines.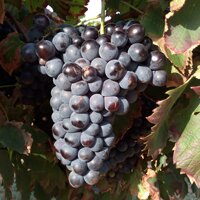 MUSCAT OF ALEXANDRIA
A very old variety of Greek origin, introduced to Narbonne by the Romans, it produces large berries with a characteristic musky flavour. Muscat wine offers scents of rosewood and flavours of exotic fruits such as lychee.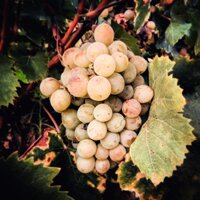 PIQUEPOUL BLANC
Emblematic grape of Languedoc where it has been cultivated since the Roman era, it produces white wines with a brilliant hue with a powerful bouquet and pleasant acidity. There are also the black Piquepoul (Piquepoul Noir) and gray Piquepoul (Piquepoul Gris) varieties.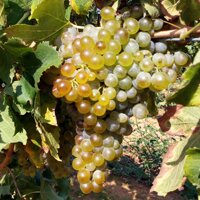 CARIGNAN NOIR (occitan : CARINHANA NEGRA)
This variety is often presented as native to Spain but is more probably of Phoenician origin. It has been cultivated in Languedoc since at least the XIIth century. Perfectly adapted to the Mediterranean climate, it thrives on stony hillsides and does not fear drought. Thanks to their thick skin, the berries are ideal for carbonic maceration. It gives rather full-bodied wines with gourmet flavours of red fruits.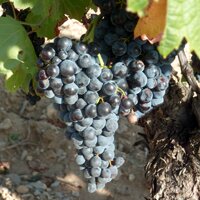 GRENACHE (catalan : GARNATXA)
A variety native to Aragon in Spain, its cultivation crossed the Pyrenees in the 14th century and spread widely in Languedoc from the 19th century. Very resistant to wind and drought, it forms solid vines with an erect habit. This grape comes in three varieties: black, gray and white.
Grenache noir
Gives light and fruity ruby ​​red wines.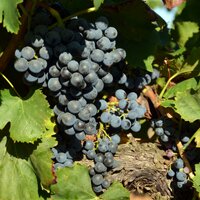 Grenache gris
Grown for the making of very pale and aromatic rosés wines.
Grenache blanc
Produces dry and refreshing white wines with ripe citrus notes.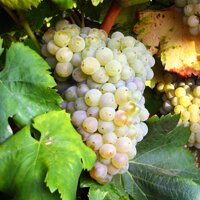 ALICANTE BOUSCHET
Cross between Grenache Noir and Petit Bouschet (from the Languedoc Aramon grape) produced by the winemaker Henri Bouschet in the 19th century. Called red vine in the pharmaceutical sector, it is one of the varieties richest in polyphenols (antioxidants). It gives very colourful wines with aromas of pomegranate and currant.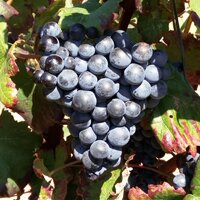 MOURVÈDRE NOIR
or
MONESTRELL
Grape variety from Spain where it would have been introduced before the Roman era by Carthaginian colonists, it was established in Roussillon in the 14th century before being propagated in Languedoc and Provence. It gives tannic and spicy wines with an exceptional ageing potential. There are also the white Mourvèdre and gray Mourvèdre varieties.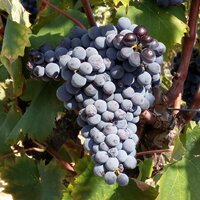 SYRAH
Grape variety from the Rhône valley, its planting became common in Languedoc since the second half of the 20th century. It gives well-structured wines with typical floral scents of violet. The juice, very colourful, is abundant in antioxidants.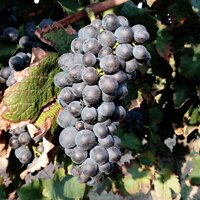 MARSANNE
White grape variety originating from the Rhône valley, Marsanne has been fairly widespread in Languedoc since the 1990s. Marsanne gives pale juices with green reflections, not very acidic, with aromas of green melon and peach blossom accompanied by notes of pear and hazelnut.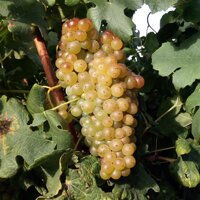 ROUSSANNE
Another white grape variety from the Rhône Valley, quite rare outside its area of origin, it has been planted in Languedoc for about thirty years. It gives finer and more acidic whites than Marsanne with an aromatic bouquet reminiscent of hawthorn flower, apricot and honey.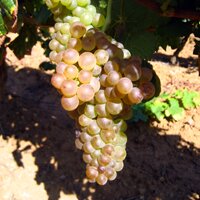 PINOT NOIR
A variety native to Burgundy where it has been cultivated since Antiquity. In recent years, it has also found its place at Domaine de Villenouvette on plots bordering the Orbieu river. In the Mediterranean climate, Pinot Noir produces wines that are rounder than in its region of origin with flavors of cherry and hints of cocoa.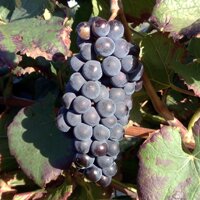 CHARDONNAY
Grape variety from Burgundy, it was introduced to Languedoc in the 20th century. In the region of Narbonne, it produces wines with banana flavours with hints of pineapple and lemon, less acid than in Burgundy while offering good liveliness in the mouth.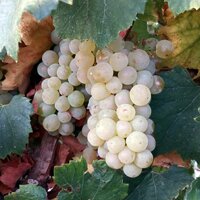 SAUVIGNON BLANC
Grape variety from the region of Bordeaux, it is grown at the Saint-Maurice estate on the cool soil of the Fontfroide valley. It offers a beautiful acidity with typical citrus flavours accompanied by notes of boxwood.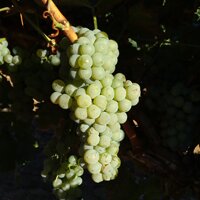 MERLOT
A grape variety from the Bordeaux area, it was introduced to the region of Narbonne in the 1970s. It is cultivated in the plains on deep soils which allow it to thrive in the Mediterranean climate. Merlot produces supple wines with flavours of prune and blackberry.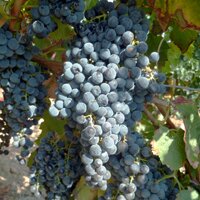 CABERNET-SAUVIGNON
Grape variety from the Médoc area near Bordeaux, it has been grown in the plain around Narbonne for more than 40 years, similarly to Merlot. Cabernet-Sauvignon gives tannic red wines of ruby color and blackcurrant aromas with peppery notes.